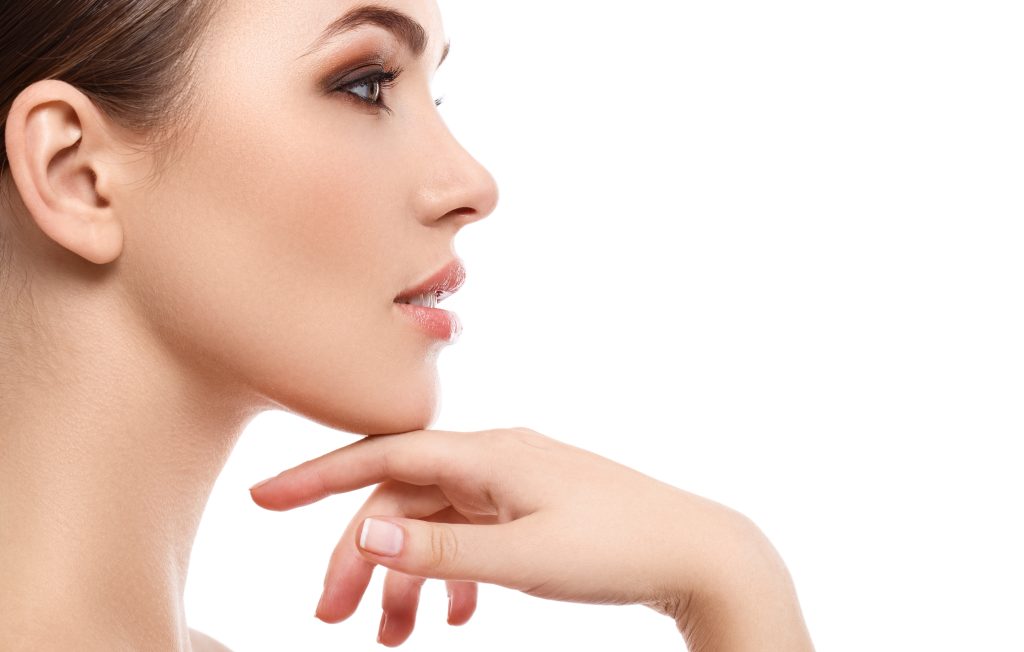 A defined chin and jawline are seen as a necessity for an attractive appearance. While some are blessed with an angular, noticeable jawline, most of us aren't. This difference is because your facial structure is determined predominantly by genetics.[1] This genetic code defines the width and prominence of your mandible, also known as a jawbone. All mandibles can have attention-grabbing contours. Feel around yours and notice the bone's definition under the skin's surface.
Unfortunately, this genetic code also determines how much subcutaneous fat hides these jawline contours. When too much fat rests around your jawline, the separation between the neck and face is lost. The result has been coined as a "double" or "weak" chin. To lose this fat, many people start a new diet or exercise trend. If you have already completed that step, then you know how little this plan achieves. That's because subcutaneous fat is uniquely unresponsive to changes in nutrition and activity.[2] So, how do you get perfect chin and jawline definition? The secret lies with the experts at Millard Plastic Surgery. Dr. John A. Millard uses the most advanced liposculpture tools and techniques to redefine patients' jawlines.
If you are interested in experiencing these remarkable results for yourself, please schedule a personal consultation with our Englewood team. Here, we will walk you through our procedures and determine which one is right for you. To speak with us directly, call (303) 792-5665.
A Sculpted Mandible
So, what defines an attractive face? Could it be the eyes, the nose, the cheekbones, or the browline? While beauty is always in the eye of the beholder, science has set out to understand the intricacies what determines facial attractiveness. For years, we have known that facial symmetry is essential for facial beauty.[3] Facial symmetry is thought to be a sign of strong, healthy genes in the person –– a subconscious biological message to attract potential suitors. But scientists took their research a step further to determine which feature played the most important role.
They looked at eyes, nose, lips, chin, teeth, eyebrows, and hair. After calculating scores from a randomized pool of subjects, they found that eyes, the feature originally predicted to be the first most defining features, actually came in second. In first place, with 45% of the vote, was in fact the chin.[4] Surprising to some, a well-defined, well-projected chin and jawline proved crucial for facial harmony. It is the foundation that the rest of our features are built upon. But how exactly does one achieve this aesthetic?
The Common Mistake
When you look in the mirror, your jawline might be concealed by unwanted fatty tissue. To lose this fat, most people work to improve their diets and exercise habits. This popular duo is remarkable at burning a certain type of fat –– visceral fat. However, diet and exercise do little to affect the subcutaneous fat that rests around your chin and neck. If you have completed a weight-loss journey, you might already know this to be true. When we improve our diets and exercise more often, our body burns fat from areas all over the body. Contrary to popular belief, there is no way to spot reduce fat in certain areas. So, troublespots like under the chin are left with lingering, stubborn fat after we've reached our goal weight.
How To Get A Defined Jawline
To define a jawline to your liking, the doctors at Millard Plastic Surgery use VASER liposuction. Unlike traditional liposculpture devices, VASER uses ultrasound technology to rattle fat cells loose from their connective tissue. During chin liposuction, the fat dislodges from the subcutaneous tissue before being liposuctioned away with an aspirating cannula. The gentle vibrations target hard-to-reach areas around the intricate contours of the mandible. This process allows for more definition in your results. VASER's vibrations only target fat cells and leave other structures unaffected. This results in less postoperative swelling, bruising, and necessary recovery time. So, how do you get perfect chin and jawline definition? Schedule a personal consultation at our Englewood offices to see the answer for yourself.
Step One: Personal Consultation
The first step is your one-on-one meeting with our team of experts. Here, we will learn about your recent medical history, current health status, and desired jawline appearance. Then, we will inspect your natural mandible structure and outline a surgical approach. A VASER chin liposuction is easily added into a wide range of similar body sculpting procedures. So, we will note any other cosmetic concerns you may have and advise appropriate procedures. Finally, we will schedule your treatment and make sure you are well-prepared for your surgical procedure.
Step Two: Prepare For VASER
Next, you will need to follow a personalized list of preparations before your VASER procedure. We will give you a list of individualized steps during your consultation, but more general guidelines include:
Avoid smoking and all other forms of nicotine. Nicotine is a chemical that constricts blood vessels which can interrupt your body's natural healing process.
Avoid alcohol as it can cause significant bruising. 
Stop taking blood-thinning medications like Advil, aspirin, and NSAIDs. If you are prescribed blood-thinning medication, consult with your healthcare provider before doing so. 
Plan a ride home. While chin liposuction only requires local anesthesia, you will not be fit to drive yourself home.  
Step Three: Your VASER Procedure
A VASER procedure begins with tumescent fluid: a soothing liquid solution that includes lidocaine for pain, epinephrine to minimize blood loss, and saline to optimize fat extraction. With the lidocaine keeping pain at a tolerable level, we can avoid the potential dangers of using general anesthesia, and expedite the recovery process. Then, a surgeon will make discreet incisions around the mandible before treating the targeted area with the VASER device. Next, he will maneuver a cannula through the target area along the chin and jawline. Once he has achieved your desired contours, he will suture the minor incisions closed. You will be free to go home and focus solely on rest and recovery.
Step Four: Recovery From VASER
After your VASER procedure, your chin and jawline will be a little swollen and tender. But since we paired local anesthesia with tumescent fluid and VASER's advanced technology, you'll be able to jump back into your daily routine quickly. We may wrap the treated area with a compression garment to encourage healing. Although your chin is bandaged and a little swollen, you'll see some results right away. As your body continues to heal, you'll start to see the natural contours of your jawline take shape. During this time, to ease any discomfort, we recommend taking Tylenol or a non-blood-thinning pain reliever that doesn't inhibit your body's organic healing process.
Step Five: Enjoying Your Results
After you've healed and the swelling has subsided, you'll see better shape and definition in your chin and jawline. It's important to maintain a healthy and active lifestyle so that these results aren't diminished. The fat cells have been removed from the area, so you can enjoy these results for years to come. If you have any questions about the last stage in this process, please give us a call at (303) 792-5665.
Other Liposuction Procedures
"Over-Night Abs" – The VASER Advantage
VASER began as a solution for underwhelming results after liposuction. Many patients turn to traditional liposuction to remove excess, unwanted fat from different trouble spots around their bodies. No place is more popular than the abdomen. But traditional liposuction technologies left much to be desired. Patients were interested in definition around the abdominal muscles –– a feat traditional liposuction was far from achieving.
This is what led to the creation of VASER technology. In fact, Dr. Millard was the first surgeon/physician to perform VASER Hi-Def in the United States. This procedure is so adept at sculpting away fat around the abdomen that it has been the "Over-Night Abs" procedure. If you are interested in adding "Over-Night Abs" to your personalized treatment plan, be sure to ask about it during your consultation.
How Much Does A Perfect Jawline Cost?
The cost of your chin liposuction procedure will depend on the extent of your personalized treatment plan. We will discuss and determine the unique cost of your care during your consultation. If you would like to finance your care, visit our financing page to learn more. To read more blogs like this one, visit our blog page to learn more about our state-of-the-art approach here at Millard Plastic Surgery.
References