Arm Liposuction
Offered at our convenient location in Denver, CO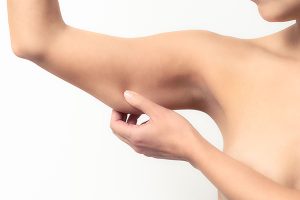 Do you have jiggly underarms? Sometimes referred to as bye-bye arms, this wiggly fat can be embarrassing and make it difficult to wear shirts and jackets.
The arms can be an especially challenging place to tone and reduce fat. Workouts may prove insufficient and patients often feel discouraged that they cannot improve the appearance of their arms. No need to worry, flabby arms can easily be treated with liposuction! When performed at the ABS Institute, your liposuction procedure will leave you with slim, toned arms!
About Arm Liposuction
The underarm is a common place that develops fat. You may develop fat in this area based on lifestyle, weight gain, or genetics. Fat cells will push against your skin and gravity will pull that fat downward, causing the skin to become loose. This symptom only gets worse with age as the skin becomes less elastic. A breakdown in crucial proteins like collagen leaves your skin unstructured and thin. A liposuction treatment will reduce stubborn fat and help your arms appear slimmer!
Liposuction is an excellent treatment that is often used to improve many areas of the body. Liposuction treatment areas include the thighs, knees, flanks, abdomen, breasts, back, arms, and chin. This impressive technique will delicately reduce difficult fat stores and sculpt your arms!
It is important to remember that liposuction is not a weight-loss treatment. Liposuction surgery cannot remove large amounts of fat but will help reduce small pockets of fat. Best candidates for liposuction treatment are men and women with stubborn areas that are resistant to exercise and dieting. The ABS Institute offers two popular, cutting-edge techniques for lipo surgery.
Before and After Photos
VASER Liposuction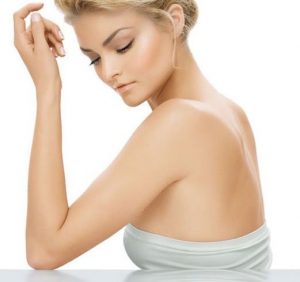 Vaser liposuction is an ultrasound-assisted surgical method that will emulsify fat cells and contour your arms.
Tumescent fluid is the first step in a VASER treatment. Tumescent fluid is comprised of lidocaine, epinephrine and saline. This fluid is administered into your arms before treatment allowing the fat in the area to swell and firm. This formula provides many advantages in your treatment that ultimately cut down surgical costs and your recovery time.
By swelling and firming the upper arm fat cells, they will be easier to remove. Tumescent fluid will constrict blood vessels, helping to reduce blood loss during surgery. This significantly reduces your recovery time to be shorter and makes your post-procedure period more comfortable. The lidocaine will numb the area, removing the cost of and need for general anesthesia.
Tumescent fluid and ultrasound technology will allow your fat to be removed seamlessly. Ultrasound waves will agitate the air bubbles present in the tumescent fluid, causing the bubbles to fluctuate in size. The bubbles will gently dislodge fat cells. This technique helps reduce trauma to surrounding tissues and improves the precision of the surgery. The fat and fluid will be suctioned out with a thin tube. There are different forms of ultrasound probes that can be used in Vaser treatment. The probes have a different number of rings, ranging from one to five. You and one of the ABS Institute doctors will choose the probe that is appropriate for your procedure.
The 5-ring Vaser probe was created by one of the ABS Institute's own doctors, Dr. John Millard. This probe has five rings for maximum fat removal and sculpting abilities.
Vaser not only reduces fat and improves the overall shape of your arm, but it will also tighten your skin. This treatment is known to produce a "shrink wrap" effect on your skin. Vaser liposuction will help reduce fat and help you regain the youthful shape of your arms.
SmartLipo
Another common form of liposuction is SmartLipo. This is a laser-assisted form of lipo surgery. SmartLipo uses a small laser fiber to help strategically reduce stubborn fat. This fiber is inserted through a small incision and will emulsify fat cells. This technique allows the surgeon performing the treatment to have more control of which fat cells are emulsified and more control of how the arm is contoured. The heat from the laser will also help to restructure the skin and produce a tightening effect. For strategic body sculpting and skin tightening results, SmartLipo will transform your appearance!
Liposuction treatment will improve the proportions of your arms and help to enhance the symmetry of your figure. During your personal consultation, you will learn more about the liposuction procedures offered at the ABS Institute. We will help you determine which one is a good option for you!
Candidates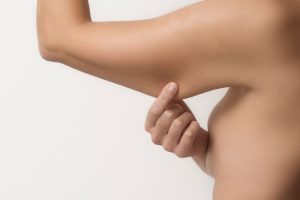 There are many advantages to having lipo treatment performed on the arms. The primary advantage is that liposuction will give you the results you want right away! This treatment is excellent for adult men and women who are frustrated with difficult, excess fat in their underarms. This imperfection can be a source of self-consciousness and deter people from wearing short-sleeved clothes or from engaging in activities that will cause their arms to wiggle.
Liposuction can help you achieve muscle definition. Advanced body sculpting techniques will leave your arms toned and defined. At the ABS Institute, our passion is to help patients feel their best. We will create a personalized treatment plan that addresses your aesthetic goals and unique anatomy. Together, we will help you look and feel better!
Personal Consultation
In your private meeting with one of the ABS Institute's highly accredited team members or coordinators, you will have the chance to discuss the concerns you have about your arms and how you would like them to appear. You will be asked about your general health, past procedures, allergies, and current medications. There will be an examination of your arms.
Liposuction options will be gone over and the risks and recovery period will be explained. This is a great time to ask some questions and voice any concerns. It may help to ask to see liposuction before-and-after photos so you have a realistic expectation for what this procedure can accomplish.
Once arm liposuction has been determined as a healthy, safe choice that will provide the results you desire, you and the coordinator will schedule a treatment date. Before you head out, you will be instructed on how to best prepare for the upcoming procedure. If you have any more questions or concerns, please give our office a call!
Preparation
You will need to arrange for rides to and from the appointment. Pick-up any prescribed medications and take a few days off from work. The amount of time taken off from work will depend on the level of activity demanded in your job. An appropriate amount of time will be recommended for you to take from work during your consultation.
The morning of your procedure, we recommend you take a shower and dress in clothes that will be easy to remove and won't apply pressure to the upper arms.
Procedure
Your surgery will be performed with precision and care so as to provide your best outcome.
When you arrive at your appointment, you will be greeted by the surgical team. You will change into a gown and your arms will be cleaned and marked for surgery. A predetermined form of anesthesia and sedative will be given and once you are comfortable, the surgery will begin. Incisions will be made along your arm, through which the agreed-upon method of liposuction will be implemented. The surgeon will place your incisions strategically so they are not visible.
Recovery
After the treatment, you will be able to return home to begin your recovery process. Your arms will be swollen and sore. Prescribed medication can help reduce discomfort and a compression garment will help control swelling. You will need to be careful when raising or moving your arms. Strenuous activities will need to be avoided for about two to three weeks. Follow-up appointments will allow the ABS staff to ensure you are healing properly and inform you when you can return to regular activities.
Results
You will immediately notice an improvement in your arms. These results will only get better as your arms settle and heal. Your final results should be seen within a couple of months and will last a long time. A consistent weight, regular activity, and healthy eating will keep your arms sleek and toned for years!
Liposuction Cost
If you are looking for your best liposuction procedure, consider the ABS Institute. We specialize in liposuction and are highly experienced in providing transformational results. Our personalized approach cause treatments to differ in costs. If you would like to learn more, schedule a consultation with one of our consultants today at (720) 573-1049.
FAQs
How much does it cost to get liposuction on your arms?
The cost of each treatment will vary based on the liposuction technique implemented and the amount of improvement desired. Please visit our pricing page for the most updated costs.
What is the recovery time for arm liposuction?
Most patients can return to work within a few days and regular activities after about two weeks. Final results will set in after a couple of months.
Does arm liposuction hurt?
No. Anesthetic will be used during the surgery and pain medication will help control any discomfort.
Does arm liposuction leave scars?
Yes. The visibility of the scar(s) will depend on your anatomical features and amount of work completed. Most scars fade over time and scar treatment can help reduce the visibility of the marks further.