Tummy Tuck
Offered at our convenient location in Denver, CO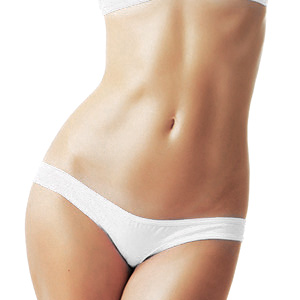 A tummy tuck (abdominoplasty) is a surgical solution in which a plastic surgeon removes excess skin and fat and tightens separated abdominal muscles to create a smoother, firmer abdominal profile. Patients of the Advanced Body Sculpting (ABS) Institute receive a revolutionary approach to the tummy tuck that offers optimal results. By pairing a traditional abdominoplasty procedure with the sculpting power of liposuction, the expert surgeons at the ABS Institute of Denver can fashion a more chiseled, defined abdomen for all of their patients. If you want to see what the ABS Institute can do for you, your first step is to schedule a personal consultation with one of our doctors. During this informative appointment, we will determine the ideal treatment plan and help you envision perfect aesthetic results. To reach our office, please call (303) 708-8770.
About
In 2019, around 118,000 abdominoplasties were performed in the United States, making tummy tucks the 7th most popular cosmetic surgery in the nation.[1] With only ~62,000 having been performed in 2000,[2] this body contouring procedure has seen a growing rise in popularity over the past 20 years. And, new technology and techniques have ensured better results. Now, masterful surgeons can extract more unwanted fat and skin tissue from the abdomen, ensuring a tighter, more contoured abdominal appearance once the final sutures are applied. The experts at the ABS Institute do so by employing one of several powerful yet precise liposuction tec3hnologies. These liposculpture techniques optimize the amount of fat we can remove. With more abdominal fat sculpted away, we can trim more excess skin from your midsection to better fit the new underlying contours. Your tummy tuck at The ABS Institute will have you feeling stronger, sexier, and slimmer. 
Before and After Photos
Benefits
Get Rid of Excess Skin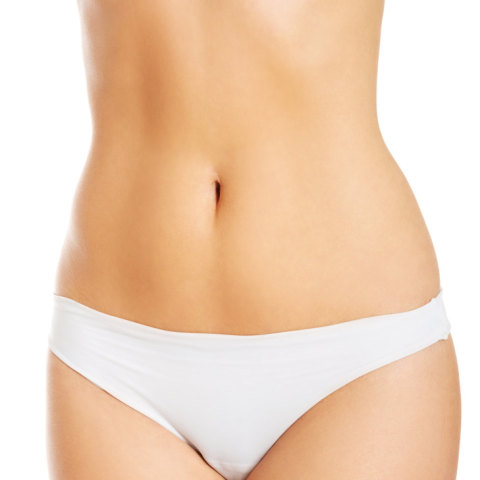 Health and nutrition gurus recommend toning muscles with daily exercise. When done properly and effectively, and paired with a healthy diet, this formula can help many people lose substantial amounts of weight. At the end of this weight loss journey, clients come to The ABS Institute with one problem: They know they have strong, defined muscles, but they're hiding under all this excess skin. Or, you may have just been pregnant and your tummy isn't quite bouncing back the way you may have wanted. Your skin is not responding to your weight loss the same as your muscles. No amount of muscle toning or fat burning can return it to its former appearance once it has stretched past a certain point.[3] The skin has simply stretched past its limits. These patients say this experience can be very deflating for their motivation. The more weight that is lost, the more excess, unwanted skin they'll have. That's where our tummy tuck approach comes in. By focusing our trained efforts on your excess skin, we can unveil your hard-earned muscles while helping you complete your hard-fought journey. 
Get Your Old Core Back
After pregnancy, you might notice prominent bulges in your midsection. Your core muscles might also not be as strong as they used to be. No amount of core exercises have improved its strength. For many of our patients, this is because their abdominal muscles separated during labor, a condition known as diastasis recti. This condition occurs when increasing intra-abdominal pressure forces the two abdominal muscles to widen too far and consequently separate from the connective fibrous midline (the linea alba).[4] Once this disconnect occurs, the center of your midsection bulges out of place from the rest of your core. This condition can be very cumbersome, especially for new mothers, because these muscles are out of place. No amount of diet or exercise can restore them to their original function and appearance. But with a tummy tuck, our surgeons can restructure and repair your diastasis recti by applying sutures that reconnect the muscles. These sutures work to close the divide between the diverging abdominal walls. Once fully healed, you will be able to see a totally restored and realigned abdominal profile. 
Candidates
Patients who see incredible results from a tummy tuck procedure include:[5]
Those who are physically healthy and at a stable weight
Those who are bothered by the appearance of their abdomen
Non-smokers or smokers who can quit smoking a few weeks before their procedure and for the entire duration of their recovery
Those with realistic expectations
If you think you qualify and would like to see how our services can improve your abdominal appearance, please schedule a personal consultation at our Denver office today!
Personal Consultation
During your consultation, we will walk you through a physical examination and a brief new patient intake interview to decide if you are qualified for a tummy tuck procedure. Then, we will ask you about your desired, aesthetic results. The better we can define these goals, the easier it will be for us to achieve them. Next, we will explain our liposuction approaches and decide on which one is best for you. Once this has been solidified, we will choose a tummy tuck approach. Depending on how much excess skin you currently have, we will decide between a mini, a full, or an extended tummy tuck procedure. After we have finalized your treatment approach, we will give you a list of preparatory steps. These should be stringently adhered to in the interim between these two meetings.
Preparation
To best prepare for your tummy tuck, it will be necessary to follow any individual instructions we gave you at your consultation as these are specific to you. It is also important to:
Give up smoking a few weeks before your surgery and the entire duration of your recovery. Nicotine is known to constrict blood flow which can greatly affect the body's healing process.
Avoid blood-thinning medications such as aspirin or ibuprofen as these can increase bleeding during surgery.
Schedule a ride home as you will not be able to drive and take care of yourself after your surgery.
Procedure
During your consultation, we will go over which tummy tuck approach best suits your goals. These approaches include:
Full Tummy Tuck
As the most common tummy tuck approach, a full tummy tuck is the procedure you think of when you imagine what a tummy tuck entails. By making a small incision from hip-to-hip, we can reach stubborn abdominal fat just below the skin's surface. After liposuctioning away this superfluous fat, we repair your diastasis recti if needed. Next, we gently pull the skin tautly over the newly contoured abdomen. Once we have carefully trimmed away the excess skin, we suture the incision. Many patients love this approach because it effectively captures their desired results while leaving behind a scar that can hide under their bikini.
Mini Tummy Tuck
This approach is ideal for patients with only small to moderate amounts of unwanted skin around their midsection. With a smaller incision than a full tummy tuck, a mini tummy tuck can address trouble spots under the belly button. Much like the steps in a full tummy tuck, a mini tummy tuck follows the same sequence of steps. After the incision, we remove a smaller amount of fat from the lower abdomen, tighten any loose muscles, and leave behind a minimal scar that can hide under your bikini line.
Extended Tummy Tuck
An extended tummy tuck is particularly perfect for patients who have just completed a significant weight loss journey. This approach removes more excess skin than a full tummy tuck. With a slightly larger incision to contour above the pubic hairline and around the lower back, this approach ensures the skin and fat tissue don't bunch or fold over the sutures once the area has properly healed. Recovery from an extended tummy tuck will be more involved than a full tummy tuck. During your consultation, we will give you instructions on how to best recover from your extended tummy tuck.
Recovery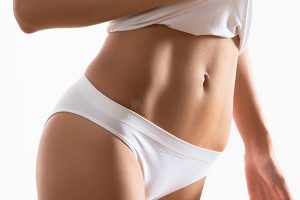 To fully recover from a tummy tuck, we recommend two weeks off from work and avoiding strenuous activities for the next six weeks. During the first week, we advise you to designate a caretaker to assist you with menial, daily tasks that may be too difficult to perform for the time being. Your abdomen may be swollen, tender, and bruised. This is completely normal and should subside within the following weeks.
Corresponding & Complementary Procedures
Once your abdominal muscles are repaired by your tummy tuck procedure, and you've made a full recovery, it is important to fortify these muscles. To help our patients reinvigorate their core muscles while still maximizing recovery efforts, we recommend Emsculpt. Emsculpt is a non-invasive device that can treat the waistline. Through HIFEM technology, Emsculpt sends 20,000 contractions through your muscles in just 30 minutes. Now, you can lie back, close your eyes, and gain a stronger core or even a six-pack effortlessly. This is the perfect treatment for patients who have undergone a tummy tuck because it requires:
No downtime
No incision
No strenuous efforts
To schedule your Emsculpt appointment, please call our office at (303) 708-8770.
Cost
The cost of your tummy tuck will depend on a couple of factors. First, we will need to factor in the type of tummy tuck we utilized. Next, we take into account the liposuction procedure as well as any additional procedure(s) that may have been added to your treatment plan. If you would like to learn about our pricing, please visit the pricing section of our website.
References