Neck Liposuction
Offered at our convenient location in Denver, CO
Neck liposuction is a cosmetic surgery that removes excess fat from the neck and jawline area. The procedure can help improve the appearance of a "double chin" or excess fullness in the neck and can help create a more defined jawline. Excess fat in the neck and chin can significantly impact a person's well-being and confidence. A double chin can make a person look older or heavier than they actually are, which can affect their self-esteem. Perhaps you feel self-conscious about the appearance of your double chin so you try to hide it with clothing or avoid certain activities, such as having your photo taken. You don't have to live this way; Advanced Body Sculpting Institute can help.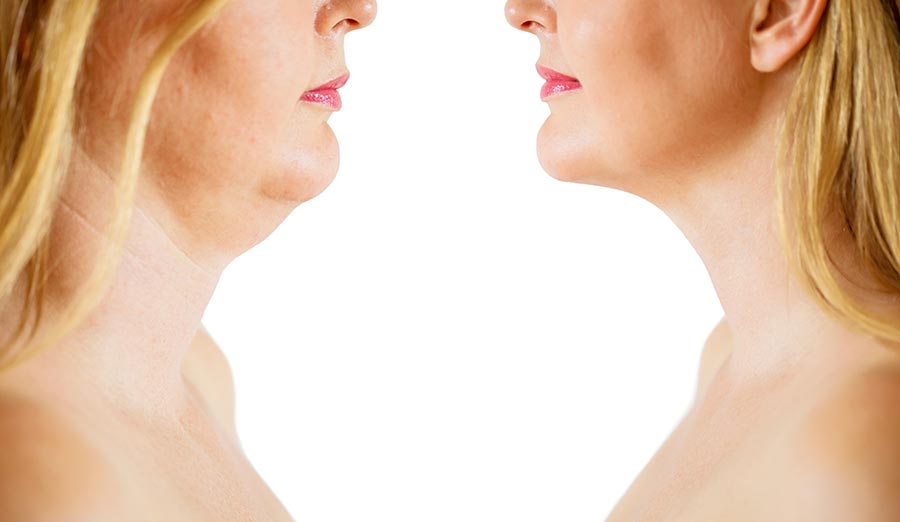 If you are unhappy with your neck and want to improve the contours of your chin, jawline, and neck – or any body part! – contact our office. ABS has a team of surgeons that specialize in liposuction on even the most challenging areas to treat, like the neck. Among them is Dr. Meryl Singer, a board-certified plastic surgeon who has over 15 years of experience performing liposuction and other body contouring procedures. Our team will be able to create for you the long, defined neck to completely transform your look. We will be happy to hear your concerns and tailor a treatment plan to your needs. In Denver, Englewood, and the surrounding areas, call (303) 708-8770 or fill out this contact form to get started.
Get all the insider information on body transformation through liposuction on the ABS Institute blog.
Before and After Photos
All About Liposuction for the Neck
Neck liposuction, also known as submental liposuction, is a surgical procedure that removes excess fat from underneath the jawline. This fat accumulation is often genetic and can give the neck a full, undefined appearance. Fat stores under the chin, also known as a double chin or submental fullness, can detract from the overall look of the face, and can make a person look older, heavier, or less athletic – even if they are in excellent shape.
The jawline and chin define the borders of the face and can significantly impact the balance and proportions of its appearance. A defined jawline and neck can help create a more youthful and attractive appearance, as it gives the face a sense of structure and definition. A slim neck is often seen as a desirable feature for both men and women: for women, the neck is associated with beauty and grace, while for men, a strong and defined jawline and toned neck can exude confidence and strength.(1)
Neck Liposuction Technology
There's a lot going on in the human neck. Nerves, veins, lymph nodes, and other essential glands all make their home in the many layers of tissue that lie beneath the skin. As a result, it hasn't always been possible to address unwanted fat in this area. Traditional liposuction techniques were limited to removing deeper pockets of fat, and attempting to remove pockets of fat directly under the skin posed a risk. Treating this area requires special attention and a well-trained surgeon. However, with today's advanced liposuction techniques, this can be accomplished safely and with excellent results.(2) And, with the introduction of energy-based liposuction techniques like VASER and SmartLipo, it's now possible to safely target fat in more delicate areas, and remove fat that's closer to the skin's surface for more sculpted results. This makes these technologies ideal for treating the jawline and neck.
VASER for Neck
VASER, or "Vibration Amplification of Sound Energy at Resonance," is a type of ultrasound-assisted liposuction that breaks up fat with high-frequency ultrasound energy to break up fat cells before they are suctioned out of the body. [3] The VASER probe delivers the ultrasound energy to the treatment area, causing the fat deposits to loosen and be easier to remove.
SmartLipo for Neck
SmartLipo uses a special cannula that emits laser energy, which creates a thermal effect that heats up and liquefies fat tissue. The thermal effect created by the laser has an important added benefit. The heat causes the collagen in our skin to contract, as well as stimulating the production of new collagen. This makes SmartLipo an excellent choice for those who want to remove fat and tighten skin and ideal for areas like the neck.
Energy-based liposuction techniques allow fat to be suctioned out of the body using a smaller cannula offering – greater contouring abilities to the surgeons at ABS Institute.
They can also be used to remove excess fat from various areas of the body, including the neck, abdomen, thighs, arms and beyond!
What are the Benefits of Neck Liposuction?
The benefits of defining the neckline start in the operating room, and end with skyrocketed confidence. Neck liposuction can:
Help remove excess fat from the neck and chin area, creating a more defined and sculpted appearance.
Improve self-confidence and self-esteem.
Provide long-lasting results, especially when combined with a healthy diet and regular exercise.
Transform the patient's appearance from a single procedure.
Invisible scarring and minimal downtime.
Even if you are physically active and maintain a healthy diet, it can be impossible to eliminate excess fat in the neck. Neck liposuction offers a way to immediately contour the neck and chin area, creating a more defined and attractive appearance. Neck liposuction is typically an outpatient procedure with a relatively quick recovery time. Most patients are able to return to work and other normal activities within a few days making this an ideal procedure for busy professionals in the Denver area.
Candidates for Neck Liposuction
Neck liposuction is generally most effective for younger patients who typically have better skin quality. These patients tend to have the best results because they have less excess or loose skin and more elasticity, which can help the skin contract to the new contours of the neck after the procedure. However, VASER and SmartLipo can allow older patients to address submental fat, as they help to tighten the skin to that it better conforms to the new silhouette after surgery.
Patients should also be:
In good health
Non-smokers or willing to quit temporarily
Not pregnant
At or near their ideal weight
The best way to find out if you can change your neck with liposuction is by booking a consultation.
Personal Consultation
During your consultation, our goal is to fully inform and prepare you for surgery as we learn what brings you to ABS Institute for treatment. Here is what you can expect from your consultation:
A discussion of your goals and concerns: Your plastic surgeon will ask about your goals and concerns. It is important to be candid about your expectations and to discuss any concerns you may have about the procedure.
An examination of the treatment area: Your plastic surgeon will examine your neck to assess your skin quality, the amount of excess fat present, and the overall condition of the area. They will also take into account your overall health and any underlying medical conditions that may affect your treatment.
A discussion of the procedure: Your plastic surgeon will explain the neck liposuction procedure in detail, including what to expect during the procedure and the recovery process. They will also discuss any potential risks or complications and how they can be minimized.
A discussion of cost: Your plastic surgeon will provide you with a cost estimate for the neck liposuction procedure and will discuss any financing options that may be available.
At ABS Institute, we specialize in advanced liposuction and body sculpting techniques and offer a more affordable and high-quality alternative to traditional plastic surgeons. Our team is led by double board-certified surgeons who have your safety and the optimal outcomes of your procedure in mind. If you are considering neck liposuction, we encourage you to call (303) 708-8770 to schedule a personal consultation. We are happy to answer any questions you may have and look forward to helping you achieve your aesthetic goals.
Preparing for Liposuction
If you are considering neck liposuction, there are a few things you can do to prepare for the procedure:
If you smoke, plan to quit smoking at least a few weeks before and after the procedure. Smoking is known to interfere with the healing process and increase the risk of complications.
You may be asked to stop taking certain medications, such as blood thinners or anti-inflammatory drugs, before the procedure. It is important to discuss your current medications during your consultation to determine if any adjustments need to be made.
Someone should be there to drive you home after the procedure and to stay with you for the first 24 hours. It is important to have a plan in place for transportation and post-procedure care.
Your surgeon will provide you with specific instructions to follow before the procedure. It is important to follow these instructions carefully to ensure the best possible outcome. By preparing for neck liposuction in advance, you can help ensure that the procedure goes smoothly and that you achieve the best possible results.
The Neck Liposuction Procedure
Neck liposuction is a quick procedure that can be performed using local anesthesia and sedatives. As with any other liposuction procedure, the area is infiltrated with tumescent fluid which numbs the area, makes fat easier to remove, and reduces bleeding. Small incisions are made adjacent to the area, and a slender cannula is inserted to suction away the unwanted fat.(4) During neck liposuction, your surgeon will place small incisions behind each ear, and underneath the chin. The procedure usually takes between one to two hours, and you'll be able to return home the same day.
Recovery After Liposuction
The recovery process after neck liposuction will vary from person to person, but most patients are able to return to work and other normal activities within a few days. The initial recovery period usually lasts for about one week, during which time you may experience some swelling, bruising, and discomfort. Your plastic surgeon may prescribe pain medication to help manage any discomfort during the first few days of your recovery.
We will ask that you wear a compression garment around the neck and chin area to help reduce swelling and support the skin as it adjusts to the new contours.
Your surgeon will provide you with specific guidelines for when you can resume normal activities. It is important to avoid strenuous activity, including exercise, for four weeks after neck liposuction.
Remember, eating a healthy diet and staying well-hydrated can help support the healing process as well.
Before you know it, you'll be out and about showing off your slim, gorgeous neck!
Your Results
Most patients are able to see a difference in the appearance of their neck and chin area after the procedure, however, it will take several months for the swelling to resolve and for final results to become visible. The results of neck liposuction are typically permanent, although weight gain or aging can cause the neck and chin area to become fuller again over time.
Your complete transformation may leave you stunned as you take in your elegant (or masculine) neck contours. The results of neck liposuction, though different for each patient, are generally very impressive and leave our patients in Denver thrilled with the results.
What is the Cost of Neck Liposuction in Denver?
We will discuss with you the full expected cost of your procedure during your consultation. Don't let a chubby neck steal the spotlight from an otherwise stunning face. Visit the mile high city's premiere liposuction specialists and love your slender neck! Call (303) 708-8770 to schedule your consultation today.
References