Back Liposuction
Offered at our convenient location in Denver, CO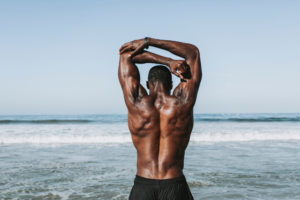 Back liposuction is targeted body contouring for your back. The back is an often overlooked area where unflattering pockets of fat can hide from our most probing self-improvement efforts. Bra bulges and back rolls may be out of sight most of the time, but they will not be out of mind the day you decide to break out your swimsuit!
We put your back front-and-center at the ABS Institute. You can read our blog to stay updated on the latest liposuction technology and body contouring trends.
Your Best Days Are in Front of You
The upper and lower back can be problem areas for stubborn, unsightly bulges of adipose fat tissue. These troublesome fat bulges can be relentlessly resistant to the benefits of diet and exercise. Unlike other areas of the body, however, back fat can be easy to overlook in the course of our body contouring treatments.[1] Some of our patients are literally blindsided by the embarrassing bra bulges and back rolls. But your best days are in front of you at Advanced Body Sculpting (ABS) Institute. We do 360-degree body contouring that flatters your form from front to back.
ABS Institute is dedicated to the proposition of making our premium aesthetic services affordable to the men and women in our Denver, Colorado, community.
Contact us for a free consultation to see if you qualify for back liposuction. Call (303) 708-8770 and we'll put you at the front of the line. Financing options are available for those who qualify.
Look Good From Every Angle
Beauty and symmetry are synonymous. By bringing balance to every angle of your architecture, your body contouring is truly complete. ABS Institute's holistic approach even includes often overlooked perspectives, such as the back. With back liposuction, you can fearlessly flaunt your back and shoulders in slinky spaghetti straps or tough-looking tank tops. And midriffs won't seem nearly as menacing when you know that you look good all the way around.
Candidates
Ideal candidates have realistic expectations for the procedure. They understand that liposuction is not intended for weight loss. Qualified candidates are able to maintain a stable, healthy weight.
Your Free Consultation at ABS Institute
Our expert staff stands ready to help guide you. We will remap the contours of your body. At your confidential consultation, we will conduct a brief physical examination and intake interview to qualify you for back liposuction. When appropriate, an ABS Institute medical professional may recommend complementary or alternative procedures to help you meet to reach your aesthetic goals.
If you are a good candidate for back liposuction, we will set your surgery date so you can begin your countdown to transformation.
Be sure to follow your prescribed preparation to ensure you have a safe, smooth procedure with the best possible outcomes. Contact us to schedule your free consultation. Call (303) 708-8770 get the conversation started.
Preparation & Procedure
Liposuction treatment will improve the proportions of your back and help to enhance the symmetry of your figure.[2] During your personal consultation, you will learn more about the liposuction procedures offered at the ABS Institute. We will help you determine which one is a good option for you!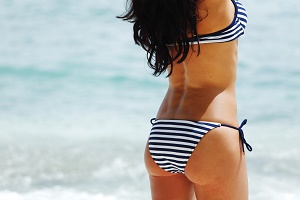 An important part of your surgery's success lies in your preparation. You should arrange for a trusted friend or family member to ferry you to and from your liposuction appointment. Fill any necessary prescriptions ahead of your procedure, if you are able, and reschedule any commitments that may overlap with your recovery time.
On the day of your surgery, we ask that you arrive at ABS Institute freshly showered and wearing loose-fitting clothing. This will minimize any unnecessary delays in your operation. Your attending physician will mark your back with a medical marker to help guide their incisions. In most instances, only a local anesthetic with mild sedation is all that's needed to keep you comfortable for the duration of your liposuction surgery.
VASER Liposuction
ABS Institute is one of Colorado's leading authorities on VASER Liposuction. VASER stands for "vibration amplification of sound energy at resonance." it is a significant advancement over traditional liposuction techniques.[3] By way of its specially equipped cannula, VASER employs ultrasound vibrations to emulsify stubborn fat cells prior to aspiration. When the fat cells are gently shaken into a smooth slurry, they can be removed with greater precision and with less of an impact on the body. VASER also has a "shrinkwrap" effect on the skin to improve post-procedural skin laxity.
SmartLipo
A clever alternative to VASER, SmartLipo employs a laser enhanced cannula for its augmented results. The laser's rays soften and melt intractable pockets of fat, like a stick of butter in the microwave. This makes for easy aspiration and quicker recovery time. As an added bonus, the laser also stimulates collagen production in the skin. SmartLipo will trim down and tighten unsightly bulges throughout your body, including the back.
Recovery & Results
At ABS Institute, our affordable liposuction is an easy, breezy, outpatient procedure. You will be released to return home shortly after your surgery is over. Recovery from liposuction is usually brief and blessedly uneventful. Still, you should take it easy on your healing body so as to avoid any complications or unintended outcomes. Your follow-up appointments will allow the ABS staff to ensure you are healing properly and inform you when you can return to regular activities.
Many of liposuction's results are immediately noticeable, though they will continue to refine and develop in the days and weeks ahead, especially as your swelling goes down. Wear your compression garment as directed by your attending ABS staff member. You can maintain your back's sleek new contours with regular exercise and a healthy diet.
What Are the Key Benefits of Compression Garments After Liposuction?
Improves aesthetic results
Reduces risk of rippling
Reduces swelling
Improves ease of movement
Is Liposuction Worth It?
Liposuction is body contouring surgery to enhance your appeal by bringing balance to your features. By removing embarrassing fat bulges from areas like the back, the procedure produces a sleek new silhouette for the patient. It is important to note, however, that body contouring is not the same as weight loss. Liposuction is not an effective treatment for obesity. Liposuction patients should be at a stable, healthy weight before they consider the procedure.
How Much Does Back Liposuction Cost in Denver?
ABS Institute proudly puts elite body contouring techniques within reach of the people of Denver thanks to our transparent, competitive pricing. Check out our liposuction cost page for a full breakdown of our prices and services. We also host regular specials for exclusive opportunities to save. Start planning today for a trimmer tomorrow. Financing opportunities are available for those who qualify.
FAQ
Can you get lipo on your back?
If you only think about how you appear from the front, then you're concerned with less than half the picture. Back liposuction sculpts and contours your blindside so that you can make as good an impression on your way out as you did on your way in. Bra strap bulges and back rolls are unappealing from any angle. Do an about-face and encourage beautiful symmetry on both sides of your body. Consider back liposuction to complete your look.  
Does skin tighten after liposuction?
Traditional liposuction does not have any skin tightening benefits. VASER liposuction and SmartLipo, however, do tighten the skin as part of their body contouring results. In body contouring, fat is selectively removed from target areas by way of a liposuction cannula. In VASER and SmartLipo, the liposuction is cannula is augmented by either a laser (in the case of SmartLipo) or a sonic vibrational device (as with VASER). These augmentations are an improvement upon the traditional liposuction procedure. Among other benefits, VASER and SmartLipo stimulate healing collagen growth in the skin through their respective, directed, energy-based techniques. Collagen provides taut and supple luster to loose, lax skin.
How long is a liposuction procedure?
The surgery takes one to four hours, depending on the size of the treated area. It's usually done as an outpatient procedure, meaning you should be able to go home the same day you have surgery.
Recovery time is usually a few days. You may need to wait two to four weeks before you can safely resume strenuous activity. It may take several months for the full results to emerge as the swelling goes down.
References
Shridharani, S., Broyles, J., & Matarasso, A. (2014). Liposuction devices: technology update. Medical Devices: Evidence and Research, 241. doi: 10.2147/mder.s47322
Seth, A. K., Lin, A. M., Austen, W. G., Gilman, R. H., Gallico, G. G., & Colwell, A. S. (2017). Impact of Patient Subtype and Surgical Variables on Abdominoplasty Outcomes. Plastic and Reconstructive Surgery, 140(5), 899–908. doi: 10.1097/prs.0000000000003816
Najera, R. M., Asheld, W., Sayeed, S. M., & Glickman, L. T. (2011). Comparison of Seroma Formation following Abdominoplasty with or without Liposuction. Plastic and Reconstructive Surgery, 127(1), 417–422. doi: 10.1097/prs.0b013e3181f95763